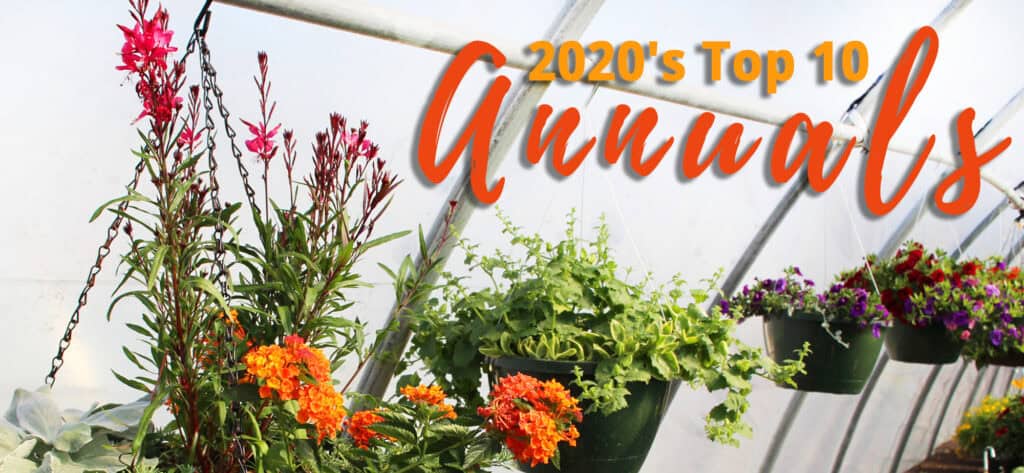 Every year we grow beautiful annuals perfect for containers or for annual beds. They provide extra color, texture, and also a variety of different heights. Check out our 2020 Top 10 Annuals to learn a little bit more about some of our favorites!
Profusion Zinnia- Providing bright colorful flowers spring through fall, this sun-loving hybrid Zinnia is known for its durability: resisting disease, drought, and heat and even repelling deer and rabbits. Up to 18" tall and spreading 24", it is the perfect choice for the front of borders or large containers. Their numerous 2" flowers are also loved by butterflies!
2) Verbena Meteor Shower– These dense clusters of small purple flowers are beautiful in combinations or planted as a mass. Growing 20-30" tall and 8-12" wide, this plant grows best in full sun or light shade. As a high nectar plant, butterflies and hummingbirds love it as well!
3) Australian Sword Fern– This fast-growing bright green evergreen tolerates both wind and even some sun making it perfect for hanging baskets or pots. Growing 24-46" tall, the sword-shaped fronds that characterize this Australian native are a fan favorite!
4) Euphorbia Diamond Mountain-Blooming with airy white flowers spring through fall, this low maintenance and drought tolerant plant adds great texture to combination plantings. Growing 24-36" in both height and spread, this plant-friend of ours does best in partial to full sun.
5) Gaura- Adding some height, movement, and color to combination plantings, this drought tolerant plant provides color spring through fall. Producing nectar-rich white, pink, and bi-colored flowers loved by butterflies this plant grows 24-36" tall.
6) Coprosma (Mirror Plant)– This woody plant with shiny variegated foliage offers year-round color and a range of colors from yellow or lime to pink and burgundy. It's an instant impact plant that grows best in full sun to partial shade and reaches 48-60" tall and 36-48" wide.
7) Artemisia- Available in a variety of different growth habits, the silvery foliage looks beautiful whether it is planted alone or as an accent. FUN FACT: Artemisia is currently being tested as a 'miracle cure' herb for COVID-19.
8) Anigozanthos (Kangaroo Paw)- Known for its unique bird-attracting tubular flowers, the multiple long club-shaped blooms on this plant are coated with dense hairs that open up right at the tip. Coming in an assortment of colors, they are not only heat and drought tolerant, but are gorgeous as cut flowers. The plant typically grows 12-36" tall.
9) Annual Grasses- Annual grasses come in a variety of colors and heights. They provide a great accent or border adding both movement and texture. Stop by our retail center so we can tell you more about some of our favorites!
10) Strawberry Ruby Ann- Providing a continuous bloom of hot pink flowers and delicious berries all summer long, this fruit plant provides a unique addition to combination containers along with your other favorite annuals. They are also winter hardy when planted in the ground!
Looking for some help arranging containers or annual beds? Check out our Color 365 program or this video to learn more about how we can help bring extra beauty and color to your yard. We would love to help you design the perfect container to fit your style.
Stop by today to see our beautiful selection of annuals!