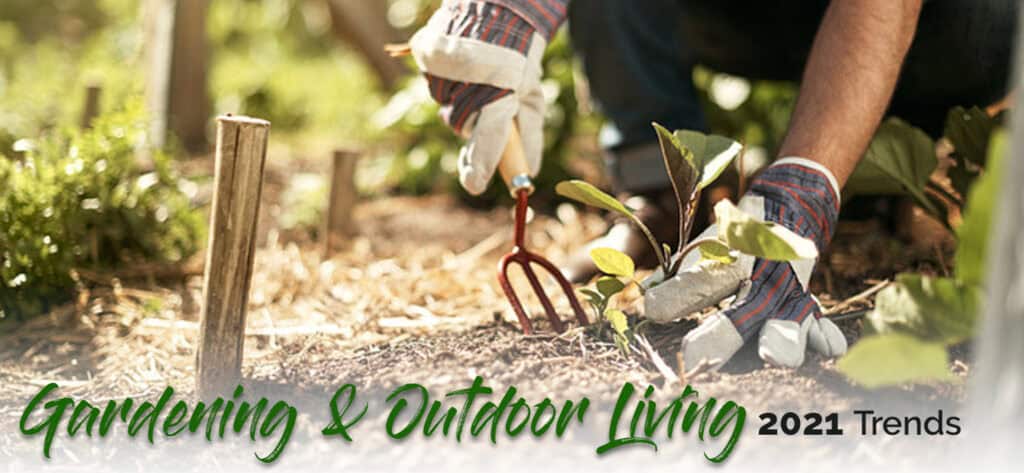 Spring is nearly here and we can't wait to get back outdoors! 2020 brought with it a huge surge of interest in gardening, outdoor living, and other home-related activities. In 2021, we'll see the influence of this evolving appreciation as we dig back in to the spring season!
Exploring Sustainability
Sustainable gardening is the idea of using practices that cause little harm to the earth and its inhabitants while attempting to actually enhance it. Concern for our environment and the desire to protect and preserve our world for future generations has prompted us to learn, explore, and implement sustainable practices. The good news? Its easy to do! Try these simple tips to make your yard more sustainable:
Conserve water by planting drought-tolerant and native plants.
Compost food scraps like vegetable and fruit waste, bread, egg shells, coffee grounds and filters, tea bags, used paper towels, and more! Start a bin, and use the finished compost on your garden and beds for rich soil.
Make sure your beds have adequate layers of mulch to save water, decrease weeds, limit erosion, and increase nutrients in your soil.
Plant trees on your property for shade that naturally cools your home in the summer months.
2. Creating a Garden Getaway
With all of us spending more time at home, the appeal of investing in our own outdoor haven is greater than ever! Creating a comforting space to relax, enjoy time with your family, and relieve the stress of the outside world is a healthy way to re-center your mind, slow your heart rate, and calm your senses! Consider these ideas as you start planning:
Think about the soothing benefits of sound. Perhaps a water feature will provide a calm presence and cancel outside noise. Or you may want to include bird-friendly flowers and feeders to attract songbirds to your space.
Nothing beats the warm touch of sun, but its easy to overheat in the middle of summer. Make sure you have a shady spot to relax, as well! If you don't have a mature tree in your yard, consider options like a patio umbrella or pergola.
Maintain privacy and quiet while keeping a soft, natural appearance by incorporating privacy hedges.
When selecting furniture, assess your habits and priorities. Is lounging around an evening campfire your favorite way to relax? Do you eat family meals outside whenever possible? Evaluating your needs ahead of time will help make the process of selecting furniture a simpler one!
3. Family-Friendly Gardening
Introducing kids to gardening at any age is a wonderful opportunity to spend quality time together and share values. Plus, you'll have a bounty of delicious, home-grown meals to enjoy as a family!
Let kids help pick out what flowers and vegetables to plant
Start seeds indoors for a fun spring project, then watch them grow and care for them until its time to transplant
Get your kids their own inexpensive garden tools like gloves and trowels
Read and learn about gardening and cooking together
Let them help plant, tend, weed, water, and harvest. Its a great way to teach responsibility while enjoying hobbies together!
Check out our upcoming Young Gardener's Day event on March 20th, filled with family-friendly gardening ideas and activities!
4. Container Plantings
A quick, effective way to bring color and curb appeal to your home is by incorporating decorative containers filled with seasonal plantings. Whether you prefer bold, bright tropicals or an elegant palette of monochrome hues, your home will be sure to look beautiful and welcoming. Plant your own for a great family project, or reach out to learn more about our Color 365 services!
5. Growing Your Own Food
Interest in home gardening is surging! There's a special joy in growing food, even if you don't have room for a large, traditional garden. Try raised bed or container gardening (perfect for tomatoes, herbs, and small vegetables) or even mixing edibles into your existing flower beds. If you're limited on space, consider planting high-yield plants like tomatoes, peppers, cucumbers, and peas to get as much out of your space as possible. Finally, stop in to pick up your seeds early – they're selling fast this year!
6. Houseplants
Whether they're brightening up your living space or rejuvenating your home office, houseplants are hot in interior design right now and rightfully so. Not only do they look attractive, they also improve air quality and lift your mood! Check out a few of the benefits of including these attractive accents in your home:
Reduce stress levels
Ease depression, anxiety, and Seasonal Affective Disorder
Boost productivity
Improve indoor air quality
Stop in to our garden center to check out our wide selection of interior plants, pair it up with one of our fun containers, and bring an instant pop of color and interest to your home or office!
7. Outdoor Living
Have you heard of the Norwegian concept of "friluftsliv"? Pronounced free-loofts-liv, it means "open air living" and encourages a lifestyle of plenty of fresh air, unwinding outdoors, and simply understanding the healing effects of nature. An important lifestyle for all ages, its particularly crucial for children: studies show that kids who spend ample time outdoors have increased creativity and critical thinking, better behavior and test scores, and a stronger sense of purpose. So take a walk outdoors, enjoy a meal on your patio, and embrace the fresh air!
As always, our team of dedicated horticulturists, designers, and gardening specialists are here to help you with any questions or concerns you may have. Reach out to us at 920.788.6344 or stop in to our garden center.
Whether you're just starting your landscaping hobbies, a first time home owner, or an avid, lifelong gardener…. we wish you a happy and bountiful 2021 season!